More Core - Just Roof It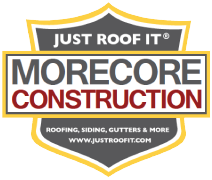 Roof Repair & Replacement, Vinyl Siding, Replacement Windows, Gutters & Downspouts, Roof Inspections & Insurance Claims Assistance:
More Core Construction Specializes in providing roof repair, maintenance, new roof installations and replacements for asphalt shingles, tiles, and metal roofing. The company also provides hail damage and storm damage restoration, along with roof inspections and insurance claims emergencies assistance services for homes in the greater Toms River and New Brunswick, New Jersey and surrounding areas.
24/7 emergency roof repair services are available.
The company also installs vinyl siding, replacement windows, gutters and downspouts. Free estimates are available.
Established in 2001, More Core Construction is devoted to providing top quality home improvement work for their clients. They only use industry leading products produced by top quality manufacturers to ensure long lasting results. They have been honored with the Best Of Home Advisor Award twice, and are a Platinum Preferred Contractor for Owens Corning.
HIC: LIC 13VH00649900
Contact Info:
More Core Construction
815 NJ-35, Ocean Township, NJ, 07712
Phone: 1-844-508-6538
Website: http://www.justroofit.com/
Current Rating: 8.01
Number of Votes: 97
Date Submitted: 17-Aug-2015
Last Updated: 23-May-2017
What do you think of this listing?